7 Secret Places to Discover In London

We travel around the world to collect impressions and create, for you, secret lists with unique places to discover. Welcome to secret London.
"It is a hobby of mine to have an exact knowledge of London." – Sherlock Holmes
Indeed, everyone can be a tourist, but it takes Holmes' wit and keen eye to truly be an explorer. You already have the typical list of sightseeing spots but if you want to explore the city from another perspective and discover true hidden gems, you have just found the perfect list.
Before I first moved to London, I imagined a busy, gray, rainy, cold and unfriendly city. It took months to realize the extraordinary quality of the London lifestyle. The longer I lived there, the more I felt the true beauty of the city. I simply fell in love with it.
London's charm comes from the unique small city feel, so untypical for a cosmopolitan metropolis. It comprises many small neighborhoods, connected to each other but also complete in themselves. Like a mosaic of small colorful pieces – historic buildings, contemporary architecture, royal gardens, patios, lively yards, delightful markets – all strung together. The rich history of London has left amazing surprises hidden around every corner: you just need to take a good look around.
Some of my fondest places in London are Covent Garden, Kensington Garden, Piccadilly Street, Hyde Park, but there is much more to discover beyond these famous touristic attractions.
1. Feel the unique ambiance of Neal's Yard in the heart of Covent Garden

It is just a few steps away from Covent Garden, but few people discover this small square full of lights and colors. Neal's Yard, with its history and special beauty, is a place of charm filled with a warm atmosphere. You can reach Neal's "world" only through passages on Monmouth Street or Shorts Gardens. Take a seat on the barrels-turned-benches, look around and feel the art and creativity in the air.
2. Pet the squirrels in St. James Park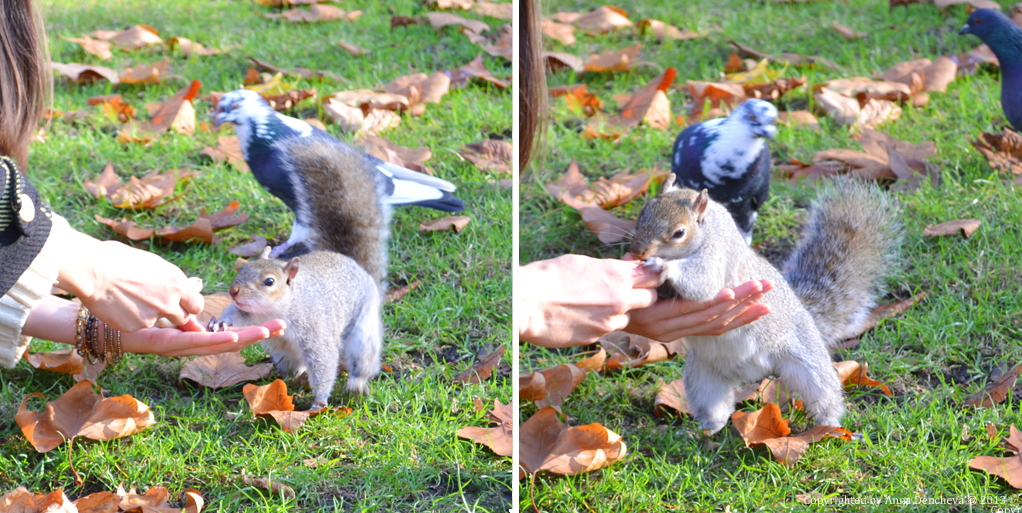 It's quite common to visit the Royal St. James Park on the Mall, but what will make your visit extraordinary is to bring a pack of nuts with you. St. James Park is the home of many "brave" squirrels, aristocratic swans, clumsy ducks, lively pigeons, pelicans and tiny birds right in front of the Buckingham Palace. And, with the right strategy, you can approach and pet them!
I love spending time on the weekends feeding the squirrels and birds in the Royal Gardens. Squirrel feeding is so amusing and relaxing.  You become so focused on getting the attention of the fluffy squirrels that you forget everything else. Pure bliss!

3. Behold the amazing view of downtown London from Hampstead Heath

Image source
Take the Northern Line (or London Overground) to Hampstead Heath and enjoy a peaceful stroll through this oasis of beautiful countryside right in the middle of the city. The magic of Hampstead Heath lies in the combination of rich wildlife and breath-taking hill top views of London.
4. Walk down Lamb's Conduit Street and soak up Russell Square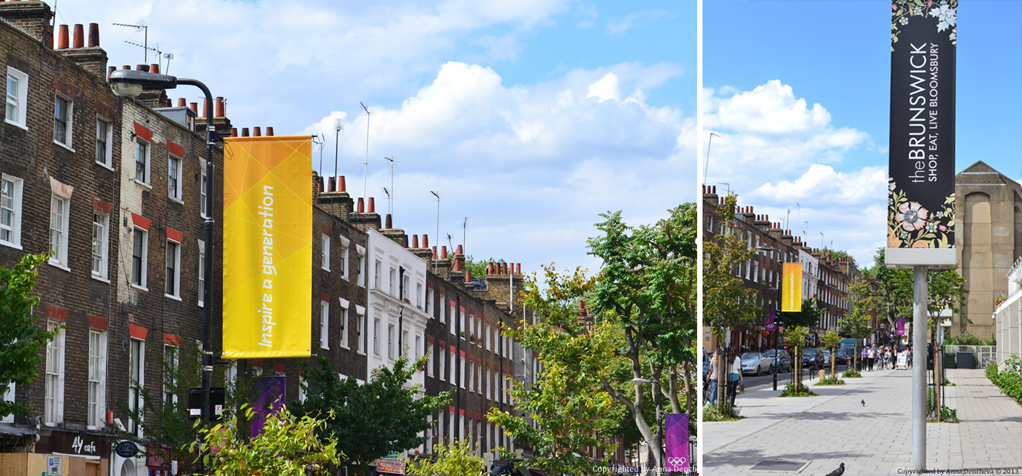 If you're fortunate enough to visit when the weather is nice, you're in for a delightful surprise. Walk down Lamb's Conduit St, cross the Brunswick garden and enter Russell Square to experience the true gist of all that is London. You'll find yourself in a colorful mix of small storefronts, lovely houses, restaurants, boutiques, gardens, cafes, and food stalls.
5. Get grounded with Yoga in the Park

Image source
After a long and fascinating walk through London, I love the Yoga events in Regents Park. On weekends you stretch, and relax with yoga in a quiet shaded corner of the wonderful Regent's Park.
6. Savor the delightfully delicious Borough Market

Image source
Even the way to Borough market is a special experience itself. Spend a Friday or Saturday afternoon on the meandering waterfront path along South bank, passing Millennium Bridge, Tate Modern, Tower Bridge, the Scoop, before you dive in the narrow street of South Bank.
Borough market is not just a place to buy great food. It is a unique corner of London where people come to discover fresh tastes, aromas, and colors and open all their senses for artisan cuisine.
7. Treat yourself to a concerts in St. Martins Church on Trafalgar Square

Image source
Every evening St. Martin's Church on Trafalgar Square becomes a venue for live classical music events.  For affordable prices you can experience classical concerts in historic St Martin's' wonderfully rich acoustic.
There are great adventures waiting for you in Great Britain, keep exploring. You'll know you've truly tasted London when you begin to discover your own secret places. Share them with us and help expand the list of secret places to discover in London.
"If you are tired of London, you're tired of life." Samuel Johnson